A recent article said that raising a child costs an average family $235,000 from birth to 17. While that probably seems hard to imagine as a new or parent-to-be, ask any parent with at least a six-month old and they know that babies and all their "stuff" add up. And by "stuff" I'm not even talking about the perfect stroller (which I've yet to find and have five), but your baby's style – like clothes, shoes and even their diapers.
I got a glimpse of my grim (and poor) future when I waspregnant with my daughter and purchased a white Burberry onesie. Not onlyshould a baby not wear while, but there is no use for Burberry on a one-yearold. I don't even have any Burberry!
So in efforts to help you rather than pretend it's not important, here are a couple of tips from this mom on head-to-toe baby style(not to be exemplified on mom's own capacity to be stylish.) Besides, when your kiddo is 17 they won't hate you for putting them in that ugly Elephant out fitif you put them in some of these designer shoes!
One-stop shopping that cute for all ages
I'm so excited to share some new happenings from one of our favorite stores, The Children's Place! While I have been a fan of
The Children's Place
for the kids when they hit those toddler years, when they were infants it seemed like their baby section was limited. However, the store is now understanding that moms don't have time to go to several stores to score all our kiddos' clothes,so they've revved up their under 12 months old department and appropriately named it BABY PLACE! Now not only can you grab all your uniforms and staple items, but can also get clothing for the baby too! And best of all, they say during the holidays, you'll be able to find coordinating outfits for all ages…(yes, I said that and you probably will too!)
Also,for those of you that already have kids, right now there are so good deals going on instore and online as well as cash back when you spend $40!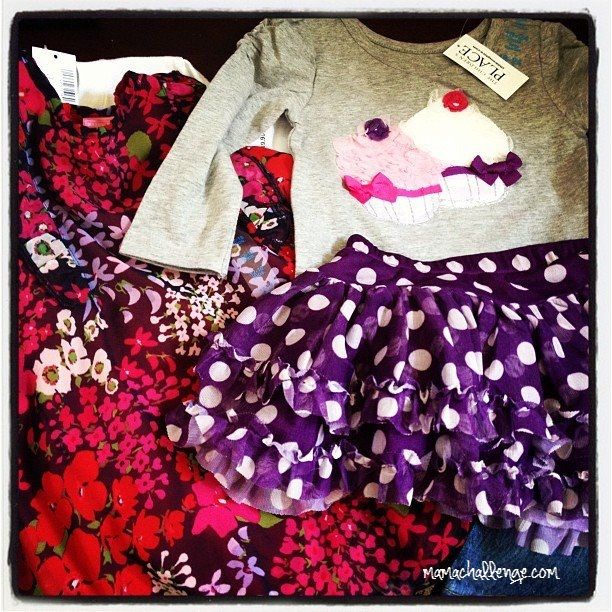 If you like dressing your kids as much as I do, you'll go broke – no matter how much money you have! Thankfully, nowadays being thrifty is nifty, so sales like
Just Between Friends
and
Rhea Lana
have become celebrated bi-annual events for moms. Whether you are selling or buying,these events make having young children affordable and you benefit from those moms who buy all the nice clothes for their kids and take care of them! When kids only wear things 2-3 times when they are under 1, it doesn't make sense to invest in really expensive clothing,but your kids can if you are willing to look and go early at these not-to-miss sales. So just go to these websites, save the dates and make sure you get there before the crowds do!
Stepin Style with her first pair of designer shoes!
If you follow me, you know
I prefer to be barefoot,
but still love the art of a beautiful shoe. And given the opportunity to have a pair of my own Stuart Weitzmans, I would probably put them in a shrine to look at every day rather than wear them. Soget almost the fun out of a having a pair and for a whole lot cheaper, get your baby fashionista her own pair of
My First Weitzman.
Available from newborn to 12 months in a broad range of colors and styles, any stylish mom and her baby will thrilled to have a pair! This perfect gift item comes beautifully packaged in a pink signature box.

You can be stylish all the way to their undies
Having your baby all dolled up doesn't end with the dress and the shoes. With designer disposable diapers and adorable cloth diapers, your baby can look good with hardly anything but their bottoms! Now while
I am not a cloth diaper mama
, I have tons of friends who are and claim it really is easy as well as much more inexpensive and not to mention more environmentally friendly. So when I was received a few samples of adorable cloth nappies from
Ones & Twos
that grew with you from ages 0-2, my curiosity made me want to try cloth diapers (only as a test.) Once I read the instructions a few times and
popped online to the cloth diapering pros at Pooters
, I felt I could do it…and since we weren't going anywhere for the evening, why not?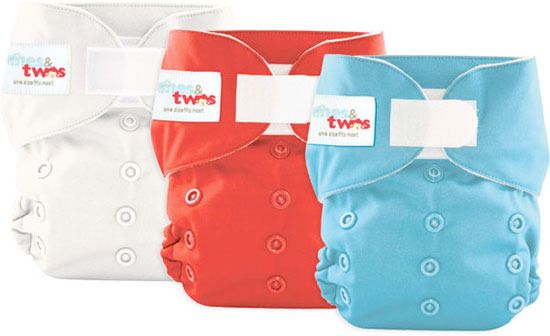 In the words of Paul Harvey, "and the rest of story…":
Actually there really wasn't one. I didn't love the part about washing them after the mess, so I know I would outsource that part to the professionals. But all together, I can proclaim it can be done…(at least once that is!)

Just face it kids cost money. A lot. But by being smart and being willing to pair a little hand-me-down Ralph with a brand new pair of Stuart Weitzmans, your baby will still be the belle of the ball!
DISCLAIMER:
I received one or more of the mentioned products for the sole purpose of this review. No other compensating was given and all opinions expressed are 100 percent my own. (Accordance with FTC's 16 CFR Part 255, "Guides Concerning the Use of Endorsements and Testimonials in Advertising.")